By Don Lewis abilitylabs.com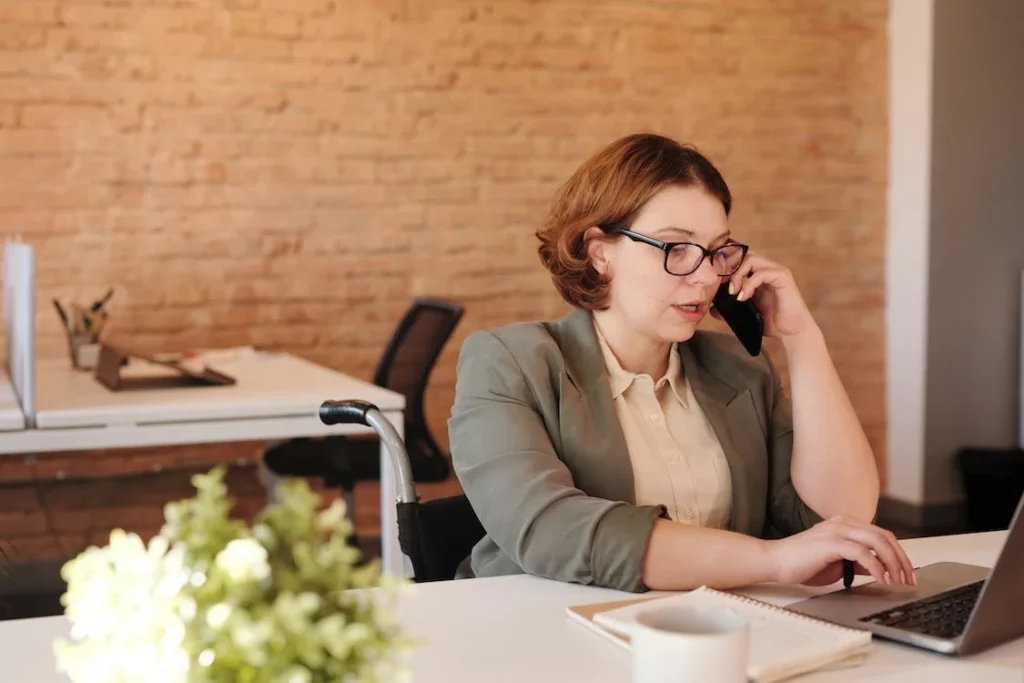 Image through Pexels
Success in the business world depends less on an individual's physical capabilities than their acumen, effort, and experience. If you are trying to find a path in life that you can pursue while living with disabilities, a career in business could be the right choice for you. Just as there are tools that can help you reclaim mobility, there are also tools that can help you reclaim your career goals. You will be able to break into the business world with confidence once you understand the resources and options available to you. Here are some tips and resources from Fraser Valley Brain Injury Association to help you get started.
Pursue Education
Obtaining the knowledge you need for business success is only possible through education. While there are alternative ways to learn the ropes, earning a university degree is the most straightforward path. Business majors can use their degree and their university connections to get a foot in the door in the fields of economics, market analysis, or a number of other related positions.
Enrolling in online business courses can also be a great option to start learning while providing some flexibility to your learning schedule. After you have earned a degree or even a certificate, you will have a greater chance of securing an internship where you can further your education in a more hands-on manner.
The university route isn't for everyone, however. If you'd rather take on an accelerated learning track, the best medical coding online course for your learning style may be of interest to you. In as little as one week you can complete a training course that will prepare you for a professional role in medical coding. This fast, flexible path is ideal for broadening one's skill set.
Gain Practical Experience
Earning your first internship or entry-level job is possibly the largest hurdle in your business career. Your previous education is a powerful asset, but connections tend to be more important than anything. You can use LinkedIn to make professional connections similar to how you use other social media platforms. When creating an account on LinkedIn, it is essential to include a professional photo and complete your profile. For the best results, try to keep your posts on-subject and respond to inquiries as quickly as possible.
Use the Right Tools
It's important to keep your resume up to date as you acquire new skills and experience. That's easy to do with an online resume guide. This way, you can quickly create a good-looking, custom resume when you need it. Once you've finished your resume, consider converting it to a PDF so you can easily send it via email. There are many online guides that can walk you through the process of converting your resume to a PDF format so that it's easier to share.
After landing your first position, your next priority is to perform your best and learn new skills. To that end, it may be necessary to use special assistive technologies so that you can maintain a high quality of work despite any disabilities that might otherwise hinder you. While employers are required to make reasonable accommodations, you might have to find your own solutions if you work from home or have other unique circumstances.
Going along with that, make sure you're taking steps to help you manage the stress that comes with changing careers and facing new challenges. For starters, do your best to make sure your home is as stress-free as possible. Also, eliminate clutter as much as possible – not just for safety reasons but because it will help you to focus better with fewer distractions.
The Assistive Technology Industry Association explains that assistive technology can be a physical piece of equipment or digital software that enhances the work of people with disabilities. Depending on the nature of your disability, you might use one or more of the following tools:
• Screen readers
• Video relay services
• Adaptive keyboards
• Voice recognition software
Start Your Own Business
Honing your business skills can empower you to climb the corporate ladder, but you can also leverage your experience to start your own business. You might even launch your new venture
while continuing to build your knowledge through an online MBA program. Running your own enterprise requires you to continuously sharpen your strategy, leadership, and self-assessment abilities. With the right skill set, you will be able to draft a business plan that can yield success for years to come.
It is easy to believe that your disability is a handicap that makes it overly difficult to fulfill your dreams. While you may have to find clever workarounds at times, you can succeed in the field of business by dedicating yourself to constantly learning new things. With knowledge and a little motivation, you can carve out your own place wherever you want to be.
Fraser Valley Brain Injury Association is a charitable organization that provides support and services to people with acquired brain injuries and their families. Call 866-557-1913 or email info@fvbia.org.